Confidential, Private CBT is just a phone call away: 07717 854355
Cognitive Behavioural Therapy or CBT as it is known is a highly effective and efficient psychotherapy now available locally in Hull. CBT is a way for you to learn to manage your stress and emotional problems more effectively. In CBT we to look at the connections between how we think, how we feel and what we do (behaviour).
It particularly concentrates on thoughts that are non useful. These often undermine our self-esteem and make us feel depressed or anxious. Looking at these unhelpful thoughts can help us work out different ways of thinking and behaving that in turn will help us manage more usefully. CBT looks at the "here and now" issues rather than focusing on things from the past. It helps people to learn new methods of managing and problem-solving, which they can use for the rest of their lives, so in effect you become your own therapist.
What makes Cognitive Behavioural Therapy stand out from other forms of therapy or types of counselling is the emphasis on evidence based practice; this means that you receive up-to-date professional therapy based on the very latest research. CBT is recommended by the Department of Health as the treatment of choice for a range of mental health problems including: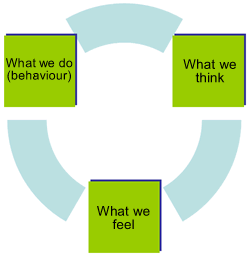 Anxiety
Anger / Rage
Post Traumatic Stress Disorder
Shame / Guilt
Depression
Post Natal Depression
Sexual Problems
Relationship Difficulties
Low Self Esteem / Confidence issues
Social phobia / fear of public speaking / Shyness
Stress / work place stress
Performance Anxiety
Chronic fatigue
Sleep disorders
Nightmares
Obsessive Compulsive Disorder
Eating Disorder
Health Anxiety
Over the years the evidence for Cognitive Behavioural Therapy has grown and what is has made it clear is what problems it can help with. The practice of Cognitive Behavioural Therapy is an art and science. It is constantly integrating the art of therapy with the science of best practice. CBT has two main driving assumptions:
Firstly it is the assumption about thinking (cognitions).
It is not what happens to you but what you make of that experience that matters.
The secondary assumptions are about how we behave or act in a situation.
What you do or how you act effects what you think and how you feel.
How is your problem maintained?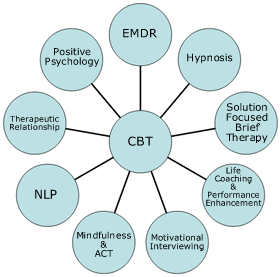 Although it is not a dominant part of therapy it's sometimes useful to look at how or why the problem developed. In fact it is usually very important to understand how problems have developed to help come up with solutions - but sometimes insight is not enough. For example, if you broke your arm and went to hospital you might expect the doctor to fix your arm and stop the pain rather than ask you questions about how you broke it. CBT is similar, the focus is on the solution of the problem, but a bit later into the therapy it might be important to find out how you broke your arm to prevent you from doing it again.
In Cognitive Behavioural Therapy we try to understand how the problems are maintained. This could be because of:
Unhelpful Behaviours (e.g. avoidance or substance use)
Thinking distortions (like personalising, catastrophising or always looking at the worst part of an experience).
Negative emotional states (like hopelessness, shame or guilt).
Physical symptoms (such as lack of energy or palpitations).
Life events (such as consequences from assaults or redundancy).
Cognitive Behavioural Therapy offers specific interventions or techniques to help you overcome the difficulties in all the above areas. In addition we also integrate a number of additional psychotherapies to facilitate greater and more permanent change.
If you would like to arrange a private and confidential appointment please ring Matthew Cole on 07717 854355 or email him at info@ystc.co.uk.